360 Degree Access Grooming Table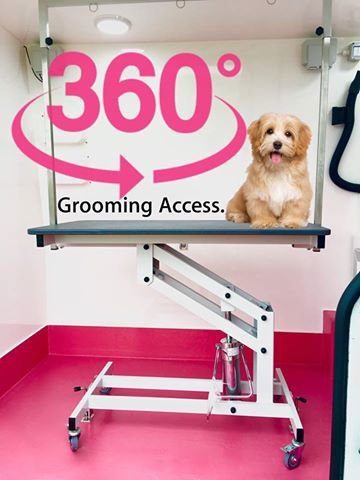 If you like to be able to groom with full access around the table, instead of it being fixed against the wall then check this out! We have created a new system which allows the table to be completely moveable and yet very secure during transit. Extra Strong Caster wheels are added to the table, as well as shoot bolts to hold the table in each position. Coated floor holes are also added with metal locator plates. This allows the table to be easily moved into the centre of the loadspace so you can have access all areas!
During transit the table is then stored against the wall with extra long shoot bolts and a ratchet strap with metal anchor points.
360 Degree Access Grooming Tables
If you like what you see with one of our products or have questions regarding optional extras such as the 360 degree access grooming table above, call us today on 01258 837 779, or email us at hello@wetpetsconversions.co.uk. Alternatively simply fill in the form below and press submit and we will get back to you shortly regarding your enquiry.
Contact Wet Pet's Conversions