Specialist Dog Van Conversions
As the UK's leading experts in Specialist Dog Van Conversions, we help to make dog grooming mobile! We can provide you with a quality built Specialist Dog Van Conversions at amazing prices.
We believe our Specialist Dog Van Conversions remain un-paralleled in the industry. Not just because of our extensive experience, but because of our unbeatable build quality and professional level grooming equipment.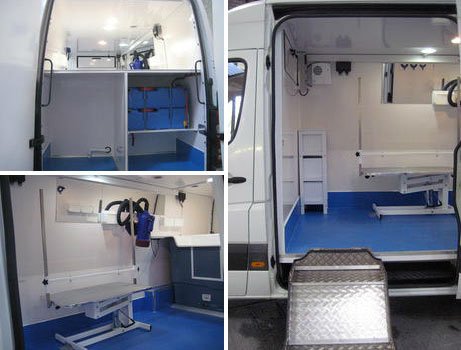 As an approved Redcape supplier, you can be sure that the products we supply are of the highest build quality. We focus on saving you money in the important areas – such as the expensive grooming equipment, the vehicle lining and luxury build quality, combined with items that you really need, making our Specialist Dog Van Conversions the best possible conversions.
Our Specialist Dog Van Conversions are not limited to certain vehicle types - we can build on any make or model of van, second hand or new, big or small. From a Basic Package, through to a complete Deluxe Package, we can do as much or as little as you like. We provide you the best dog grooming mobile conversions available.
Skylark - Specialist Veterinary Van Conversion
Here at Wet Pets we embrace every challenge we are presented with. We used our many years of experience and a portfolio of conversion techniques to cater to the needs of our latest specialist conversion; Skylark Veterinary. We were tasked with converting a long wheel based Sprinter van into a comprehensive mobile Veterinary Surgery. Skylark Vets requested their van conversion be fitted with our revolutionary, fully insulated water proof lining. Skylark also requested to have fitted an independent silent battery power so that Charlotte could operate anytime, anywhere.
Once we had fitted all the equipment and optional extras there was still a huge amount of room inside for Charlotte and her assistant to work from. A special 'knee press' operated hot water sink was installed along with 2 cages, of which a removable mid divider was added. This allowed them to create one large cage if needed. We added on-board Wi-Fi, over cab storage, CCTV and a side door camera with an interior screen allowing inside to outside observation.
A lockable drugs cabinet was required along with a mounted fridge for those pharmaceuticals needed to be chilled. We also rerouted a work top which had a bespoke storage section to it. Skylark Veterinary needed the best of what we could offer and we had great fun with this custom specialist van conversion. We fitted all of Charlottes equipment including a wall mounted portable 100HF X-Ray unit which sat next to a Eickmeyer LifeVet M. These specialist pieces of equipment required us to re-think the way we usually convert a van so that it worked in the most practical way for the type of conversion. We added in an Ultra Sonic Cleaner PS-40A, a DeVilbiss Oxygen Concentrator stowed on the side of the cabinet. Adding in a Mindray Ultrasonic on the worktop proved difficult to fit alongside a Brinsea Thermal Life-support Cabinet so we fitted these on the rear worktop next to an X-ray Processor, maximising space. Finally we added in an Eickemeyer teeth cleaning unit to finish off all the custom veterinary equipment.
All of this took an intense amount of planning, design and working with the client to best convert to their specific needs. Here at Wet Pets we are truly focused on making your converted van specific to your needs.
Work with us to create your dream specialist converted van. We would like to wish Charlotte many happy years of working in her amazing new mobile veterinary surgery!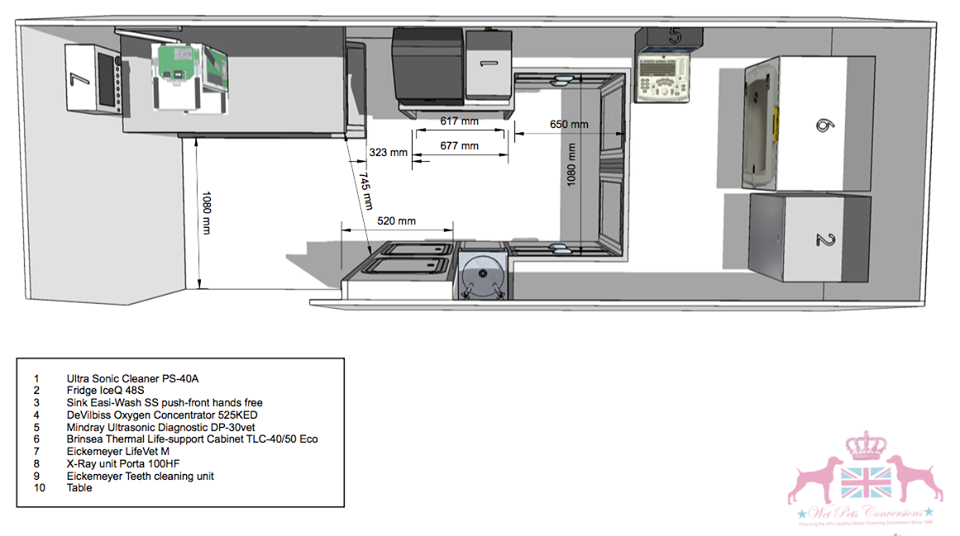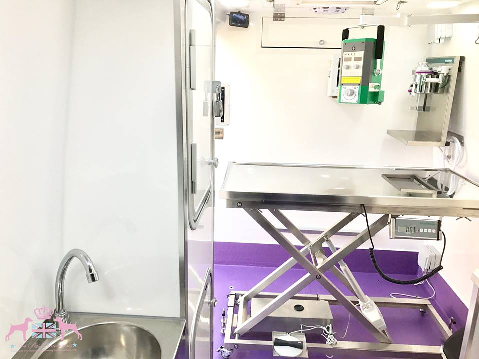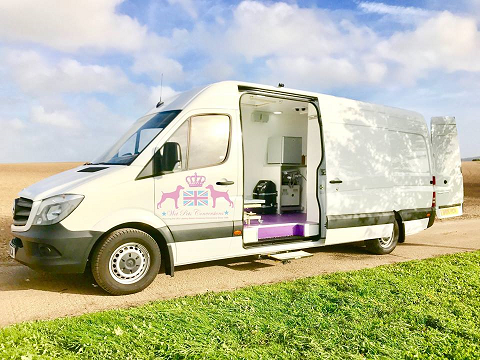 Wide Range of Specialist Dog Van Conversions
From Pet Grooming Vans and Pet Grooming Trailer conversions through to bespoke luxury Pet Grooming Parlours, the quality of our products will out perform anything you have seen before, which is why we give all our conversions a 10-year warranty. That is why you can be sure that when it comes to Specialist Dog Van Conversions we really are the best.
Specialist Dog Van Conversion Package
- Unbeatable lasting quality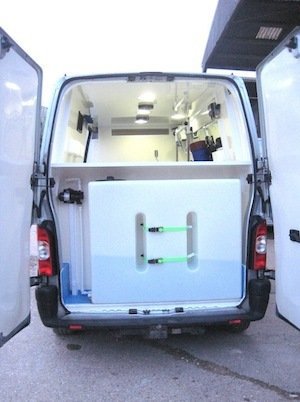 - Award winning linings
- Optimum practicality and durability
- Exceptional finish and build quality
- Quick turnaround times
- Only premium equipment and materials utilised
- 10 year warranty
- The most competitive conversion prices on the market
- Redcape approved supplier
- Fantastic after care service
- Nationwide repair and service network
- Friendly and free advice
New! Choose your floor and bath colour to match your company logo for only £99.99!
Specialist Dog Van Conversions Contact
If you like what you see with our Grooming Van Conversions, or have any questions and would like to know more, call us today on 01258 837779, or email us at hello@wetpetsconversions.co.uk. Contact Wet Pets Conversions today or alternatively simply fill in the form below and we will get back to you shortly regarding your enquiry.
Contact Wet Pet's Conversions