Pet Grooming Trailer in Dorchester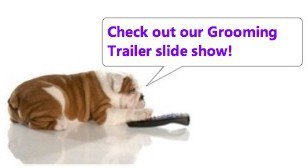 The Wet Pet's Grooming trailers are a fantastic way to keep your grooming business on the move without the need to invest in a van.
Just hook up your vehicle and take your business with you!
The Wet Pets Trailer
Our range of industry leading trailers are hand built to perfection.
Not only are they the most lightweight insulated trailer in the UK, they are also of the highest build quality.
Every trailer is built from our revolutionary 80mm insulated panel which is not only exceptionally strong & hardwearing, it's insulated properties naturally keep you cool in the summer and warm in the winter.
The Design
A full length 3m side window is included in every trailer, with a fully sealed interior that is 100% water proof, with a stainless steel drain and plug included for full interior washdown.
A modular side door with window is also included. These fantastic doors have a built in fly screen with dog barriers which allows you to have the main door open and the fly screen closed to provide an airy but secure environment.
Each trailer comes with a 10 Year Warranty and are exceptionally strong but light in weight, with a fully converted grooming trailer (with a full tank of water) only weighing approx 1000 kilos. This allows them to be pulled by a wide range of vehicles.
We build trailers to any colour and size and fully fit all the equipment inside or just install the basics for you if needed.
Trailer Conversion Packages
Our Pet Grooming Trailers are not limited to these 2 packages, you can mix and match equipment/ layout ideas as you like. We can build our Pet Grooming Trailers to many specifications to help ensure that you have the complete bespoke package and every individual requirement is met.
Each conversion cost does not include the cost of the base trailer which we supply in various sizes.
We are so proud of our Pet Trailers that we give them an amazing 10-year warranty. That is why you can be sure that when it comes Pet Trailers, Wet Pets Conversions really are a name that you can trust.
Contact Us for Pet Grooming Trailers in Dorchester
If you like what you see with our grooming van conversions, call us today on 01258 837779, or email us at hello@wetpetsconversions.co.uk. Contact Wet Pets Conversions today or alternatively simply fill in the form below and press submit and we will get back to you shortly regarding your enquiry.
Contact Wet Pet's Conversions