Pet Grooming Parlour in Wiltshire
Wet Pets PURRRRRFECT Parlours!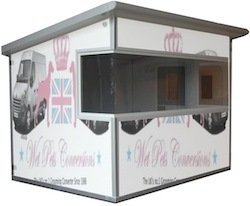 ZERO Planning Permission or footings Required!
Our fantastic grooming Parlours provide the perfect working atmosphere in any shape, colour and size you require.
We have built parlours for some of the top groomers in the country who required a separate work space either positioned in their garden or made mobile to take to grooming exhibitions and shows.
If you don't have an appropriate space in your house to work from and would like to have somewhere in your garden or you need extra work space or a mobile parlour for shows and events then these provide the perfect solution.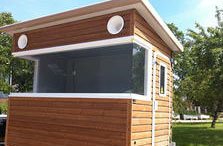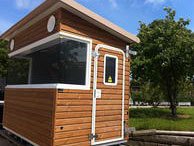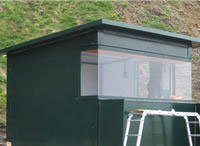 All of our Parlours are made using a unique process, panels are made in one piece upto a maximum size of 10 x 3.5m, this reduces the number of joints needed ensuring a structurally stable, lightweight, watertight and strong structure with unbeatable thermal properties.
Buildings can be completely pre-made and simply craned into place - subject to sizes and access, resulting in minimal disruption to your home.
Made from our Revolutionary 'VSIP' Panels


Unbeatable thermal qualities

Superb sound insulation

No planning permission required

No foundations required

Delivered complete & portable

Can be easily moved

10 Year warranty

Built to any size & specification

The Design Process

Each and every project is underpinned by the highest levels of Service and aftercare, that reinforce the decision to own a Wet Pets Parlour.

The Build: The floor, walls and roof are made from our unique Structurally Insulated Panels. This ensures that the whole building is structurally stable, waterproof and provides unsurpassed levels of insulation. This helps to keep you warm in Winter and cool in the Summer.

Foundations: Foundations are not necessary as our buildings are structurally self-supporting and can be posi-tioned anywhere.

Exterior: We have a wide range of finishes, whether it be timber cladding, such as Thermo-wood or Western Red Cedar, painted, stone, eco wall or a modern panel system for a more contemporary look.

Interior: From traditional plaster to attractive wall panel systems, a range of finishes from brushed Metal to Amazonia Linewood are available.

Lighting: Low voltage LED lights are included as standard but a limitless choice of lighting is available.
Flooring:A standard waterproof non-slip floor is included A choice of solid wood, engineered wood, laminate, tiled

or carpet is offered.
Heating/Cooling: A climate control system or under-floor heating are our most popular choices.

Windows & Doors: A full length fixed window is included as standard with a modular door combining an optional fly screen. Bi-fold, Patio or French doors with a huge range of windows are available in a powder-coat colour of your choice.

Power: Just plug into your home power supply and you are ready to play! Our special outdoor plug system enables you to use a standard 3 pin plug attached to a purpose built 25m chord to plug directly into a plug in your home, providing a limitless supply of energy which will power everything in your parlour. Internally, there are three double sockets and a British Safety Standard RCB unit that protects your electrical supply and provides you with maximum safety standards.
Contact Us for Pet Grooming Parlours in Wiltshire
If you like what you see with our grooming van conversions, call us today on 01258 837779, or email us at hello@wetpetsconversions.co.uk. Contact Wet Pets Conversions today or alternatively simply fill in the form below and press submit and we will get back to you shortly regarding your enquiry.
Contact Wet Pet's Conversions