Mobile Dog Groomers
As the UK's leading mobile dog grooming conversion specialists, we provide mobile dog groomer with specific tailored equipment needed to perform an outstanding job. Our aim is to provide mobile dog groomers with the most economical and quality built pet grooming conversion available on the market.
The Wet Pet's Grooming trailers and vans are a fantastic way to keep your mobile dog groomers in business and on the move without the need to break the bank.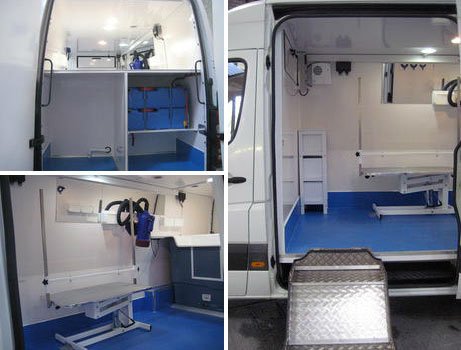 With our mobile Pet Grooming Trailer, you can just hook up your vehicle and take your business with you! We can build your mobile dog groomers trailer to any bespoke design, shape, colour and size and fully fit all the equipment inside.
We have such confidence in the quality of our Pet Grooming Vans and Pet Grooming Trailers that we give our conversions an amazing 10-year warranty, so you can be sure that when it comes to mobile dog grooming we really are the best.
We believe our dog grooming mobile conversions remain un-paralleled in the industry. Not just because of our extensive experience, but because of our unbeatable build quality and professional level grooming equipment that we provide with all of our conversions.
Our Quality Van Conversions are based around long lasting quality and ease of use, providing a totally safe and enjoyable working environment for all mobile dog groomers, that performs as well as it looks. From the hygienic full wash down lining through to the luxury of air conditioning and heating with a built in de-humidifier, we offer a premium conversion at a practical price that will prove an invaluable asset to your company.
Knowing that our clients range from a student "just starting out" in the industry all the way to a successful mobile grooming franchise with a fleet of vans, we aim to cater for all budgets and requirements, which is why we offer Basic Conversion and Deluxe Conversion, ranges and a wide range of optional extras.
Mobile Dog Groomers Contact
If you like what you see with our Grooming Van conversions, or have any questions and would like to know more, call us today on 01258 837779, or email us at hello@wetpetsconversions.co.uk. Contact Wet Pets Conversions today or alternatively simply fill in the form below and press submit and we will get back to you shortly regarding your enquiry.
Contact Wet Pet's Conversions