Kennels & Catteries



Kennels & Catteries like no other...
From a single Kennel to a row of 20, our Revolutionary new Kennels can be completely customised to perfectly suit your needs.
Each Kennel & Cattery is built from our very own revolutionary panel creating a completely insulated, portable and waterproof building as standard with many other fantastic benefits such as sound proofing and 100% texture free hygienic walls already built in to each design.
Check out our brand new portable integrated run & sleeper unit below!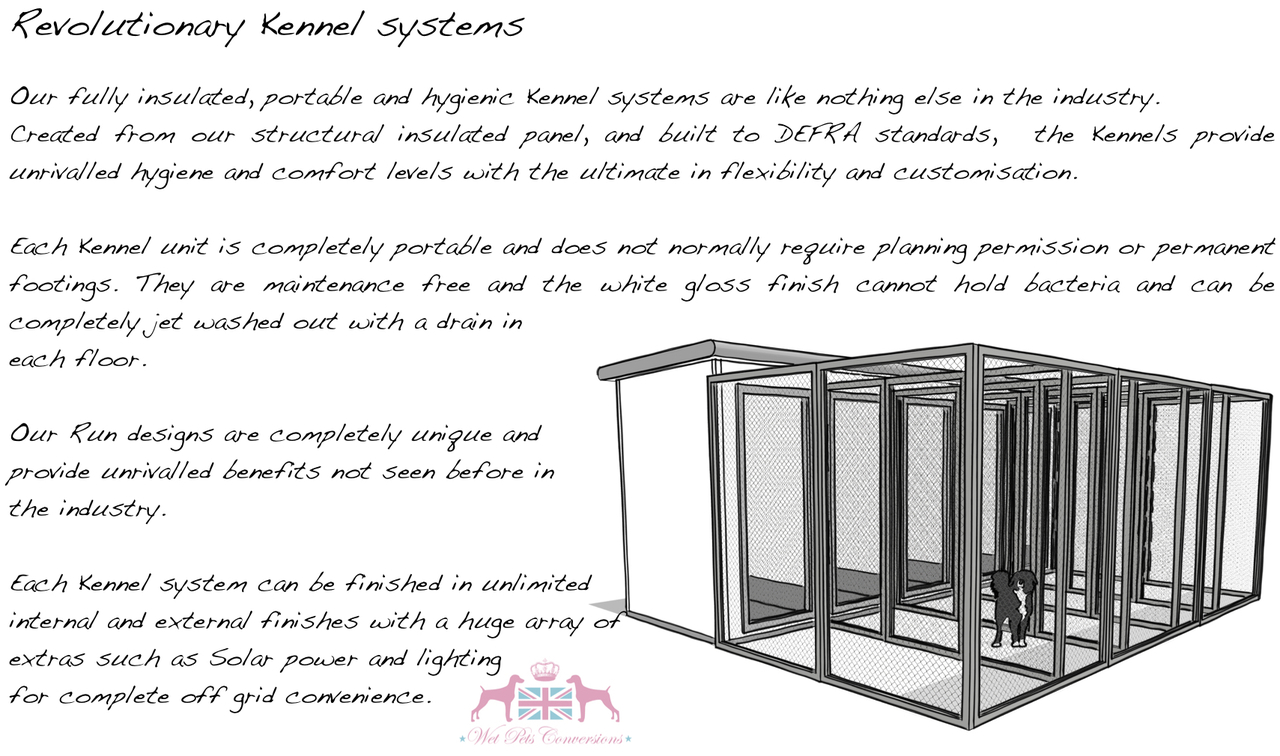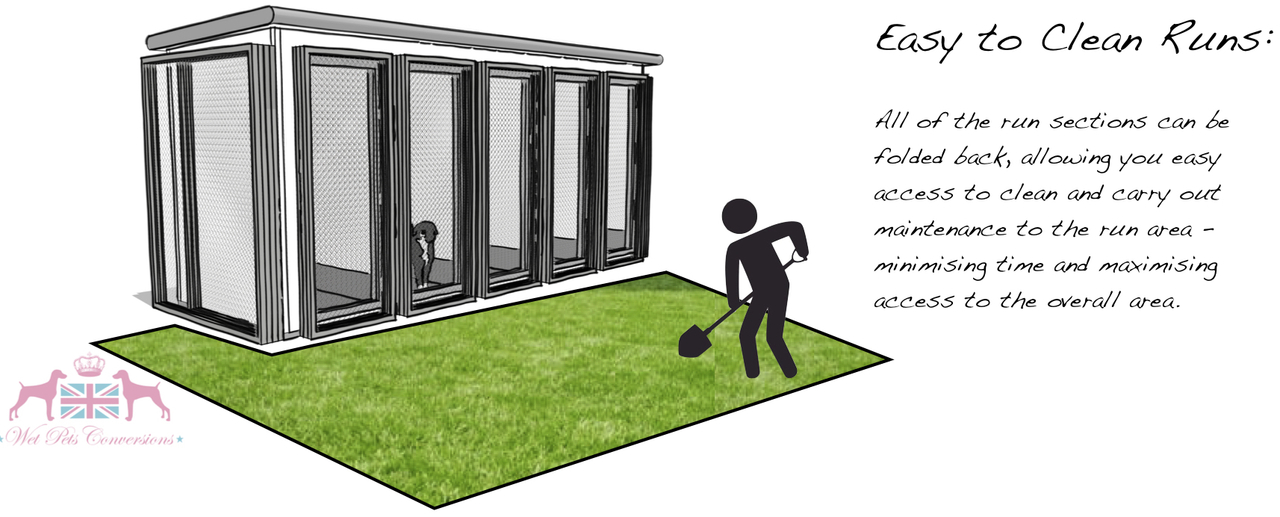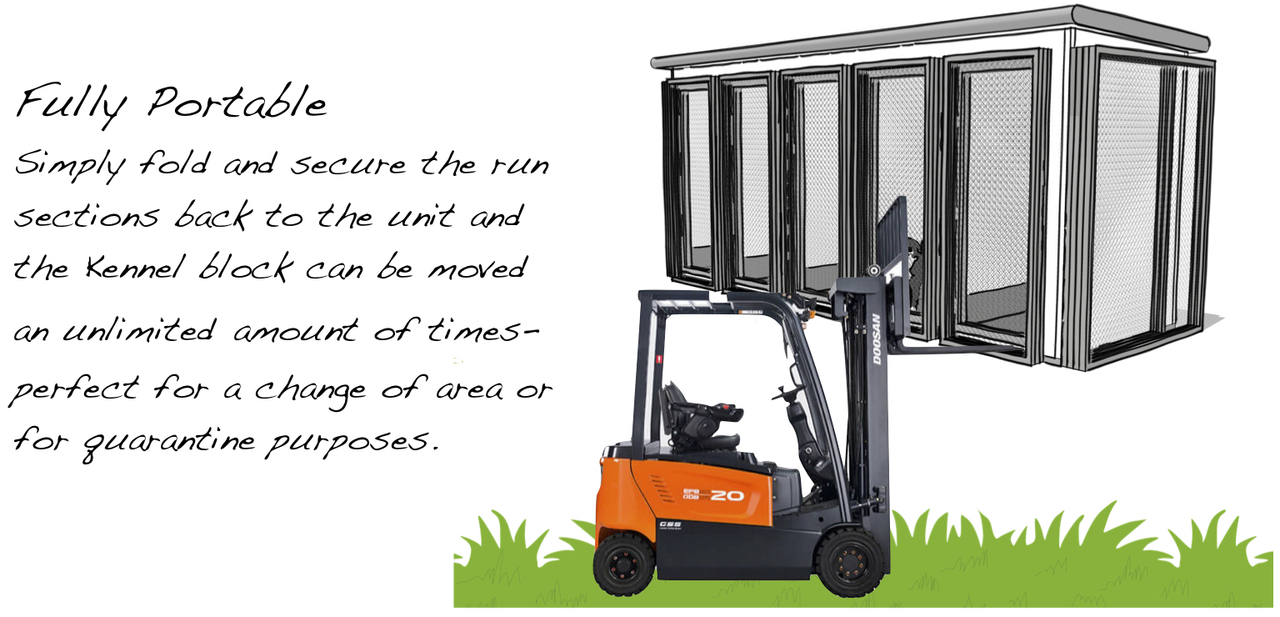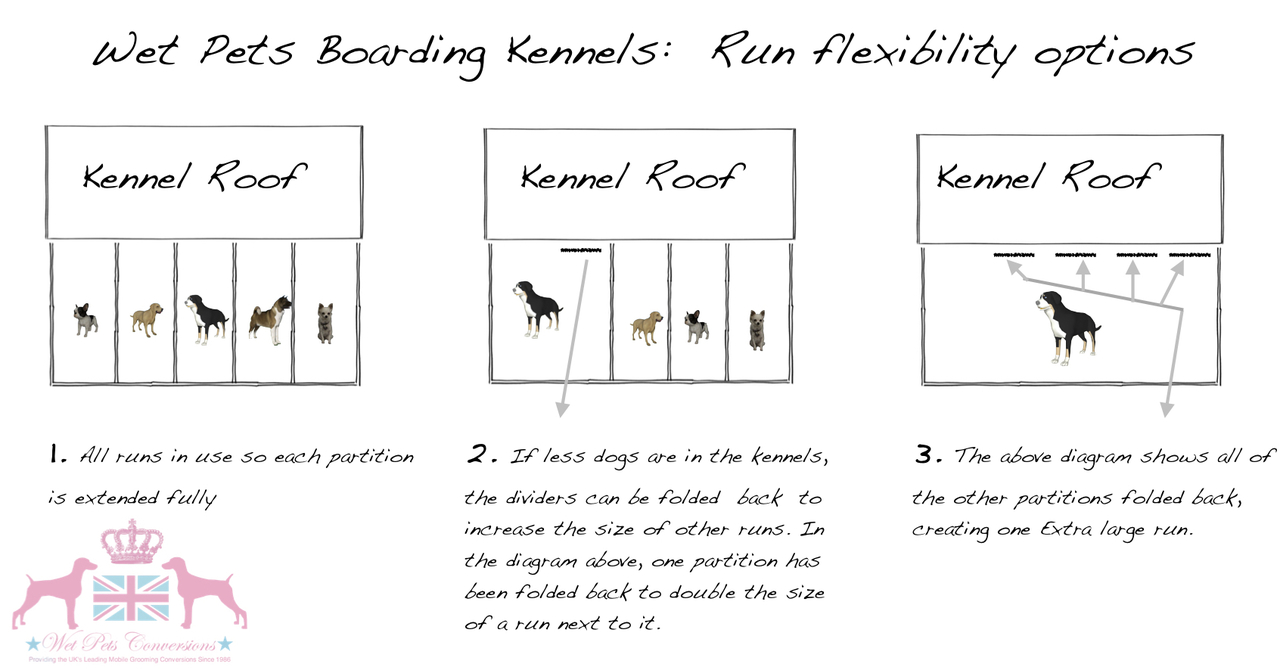 Just a few reasons why they are the No.1 choice of industry leading professionals...
Build Quality & longevity: Each Kennel & Cattery comes with an incredible 10 year structural integrity warranty. They have an expected lifespan of 60+ years and require zero maintenence due to their 100% composite construction.
Hygienic: Every Kennel & Cattery as standard can be jet washed out with a wide range of disinfectants and the water simply empties through the drains in the floor. The full interior is white gloss GRP and can be easily wiped clean, thoroughly reducing cleaning times. We are able to create separate quarantine sections that are totally portable and can be relocated easily.
Insulation and Temperature Control: The superior built in 100mm insulation provides unrivalled comfort levels to keep the inhabitants cool in the Summer and Warm in the Winter - plus it creates a sound proof interior to help create a calm and relaxed atmosphere. Choose from a wide range of AC and infra-red heating units, with full ventilation provided through specialist roof vents and opening mesh backed windows or custom cage fronts that can be placed in any location.
Portable; Our Kennels & Catteries are built from super strength single piece panel which allows them to be super strong and completely portable. They have a built in base frame for easy pick up and they can be moved an unlimited amount of times.
Planning Permission Free & No permanent Footings needed: Due to the portable nature of the buildings, they normally never require planning permission. Due to the single piece panel build design, the super strong properties of the buildings mean they do not require concrete or permanent footings, they simply require a solid, level base such as gravel, grass or shingle.
Self contained: The buildings do not need to be hard wired into electrics, they have a 25m cable that plugs into a built in electric unit we provide, and then the other end goes into a normal house hold socket.
Comfort levels; Unrivalled comfort levels are provided through the full ability to customise bedding, built in crates, heating units and unlimited optional extras to create the perfect balance of comfort and functionality.
Galvanised Mesh Runs: Fixed or folding runs can be added to the pens. These can either be integrated onto the building, or made detachable. Our folding run design allows you to fold the run away so that the external area can be easily cleaned or mown if grass. It also allows the whole building and run to be moved together safely as one piece.
External & Internal customisation: Choose from unlimited external designs from picture vinyl coverings with your logo on to our special zero maintenance composite wood effect cladding.
Unlimited Build Designs; Have a design in mind? no problem! Due to each building being made by hand, we can build unlimited designs. From pitched roofs to flat roofs or living roofs, fixed or mesh dividers - the designs options are limitless.
Delivered complete and ready to work: Each Kennel & Cattery is made complete on our site meaning no building or construction work is needed at your site. Simply plug in and play!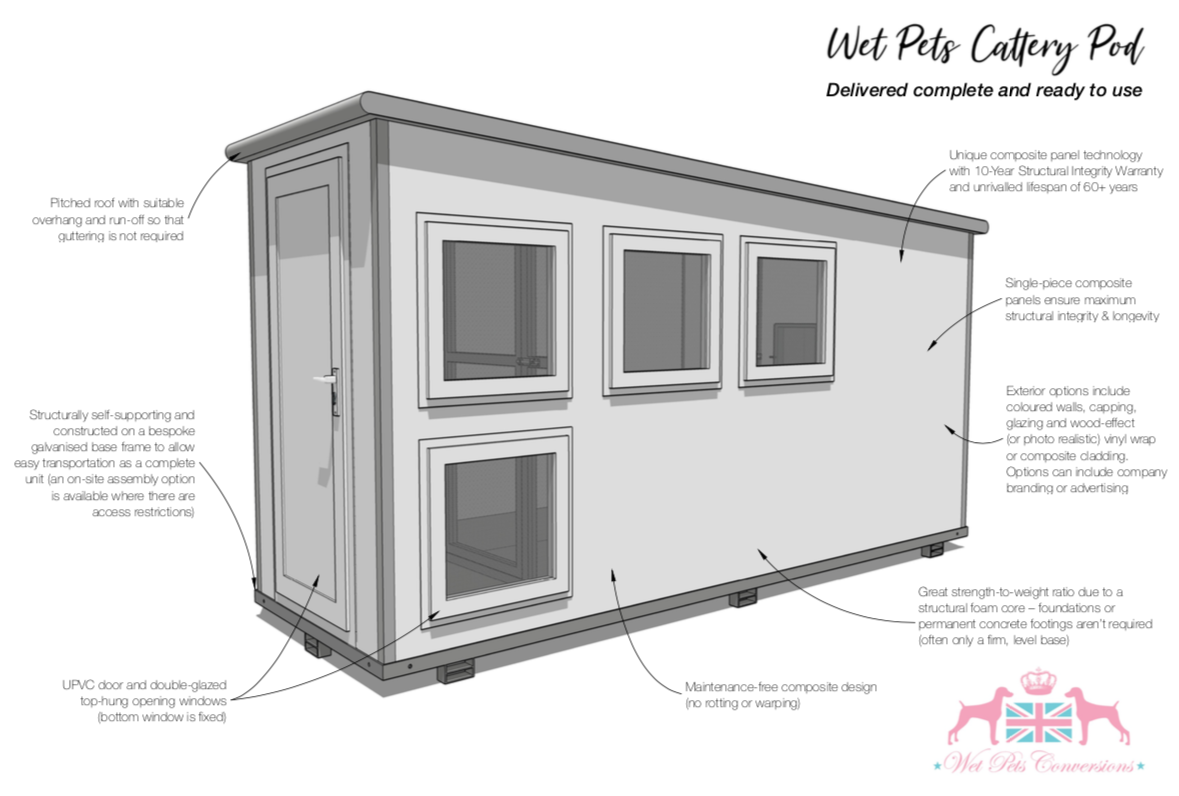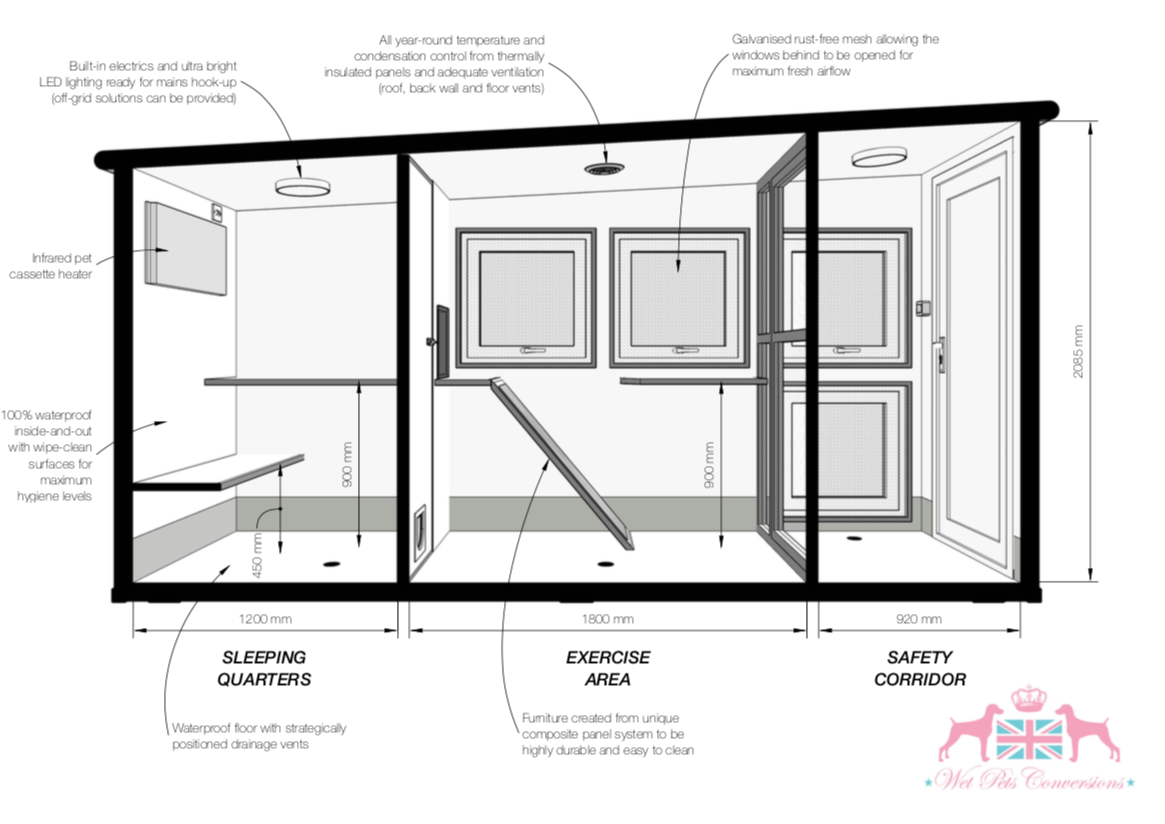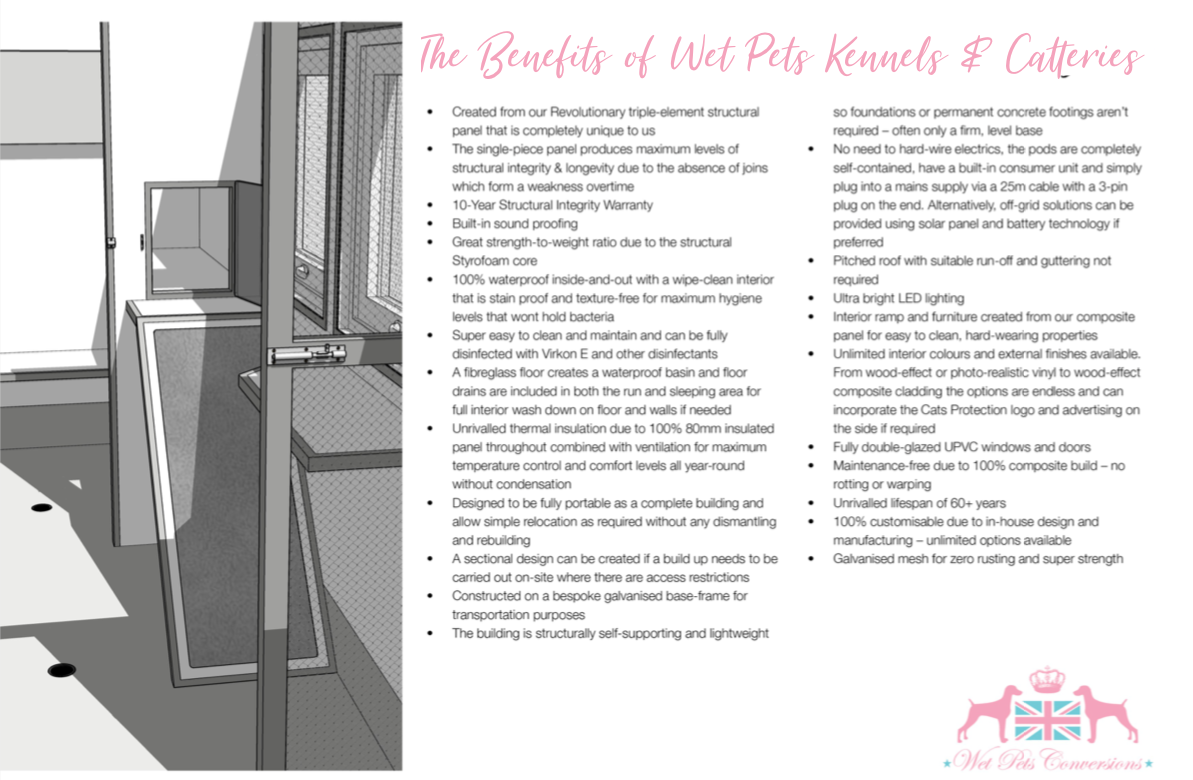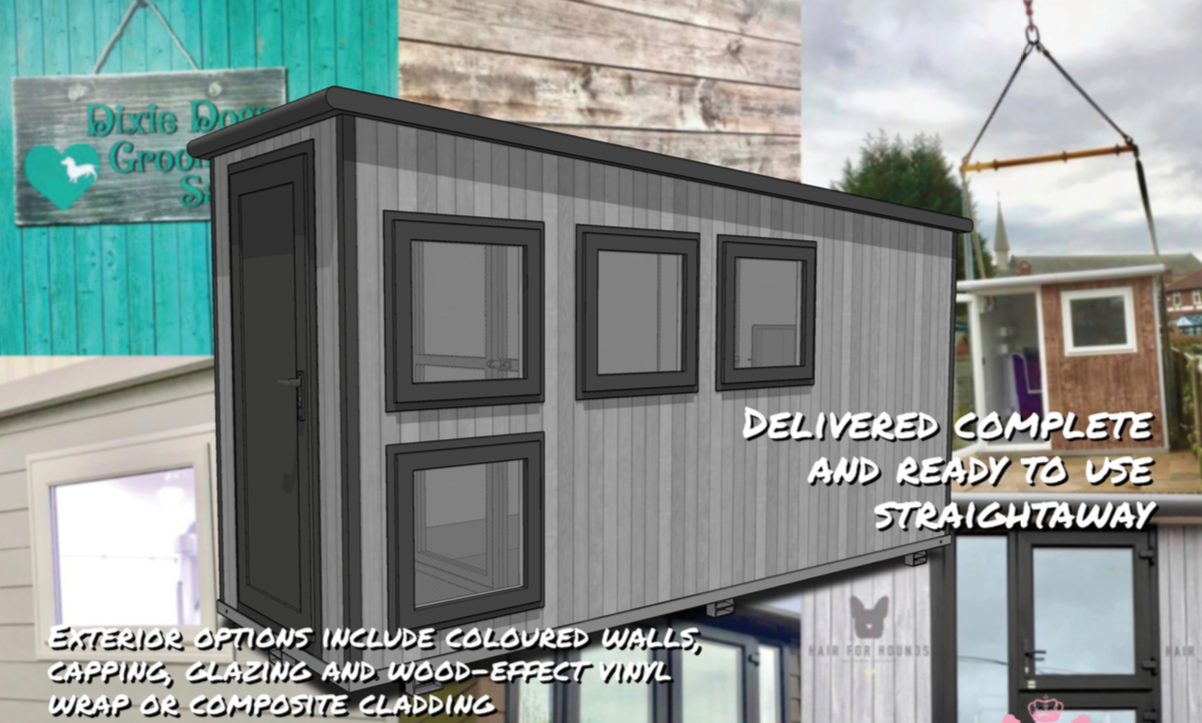 Contact Wet Pet's Conversions