Clipping Vans
As the UK's leading pet clipping conversion specialists, our aim is to provide you with the most economical and quality built mobile clipping vans available on the market.
From pet clipping vans and pet clipping trailer conversions through to bespoke luxury pet clipping parlours. In fact were so proud of our clipping vans that we give our conversions an amazing 10-year warranty. That is why you can be sure that when it comes to clipping vans, Wet Pets Conversions really are the best.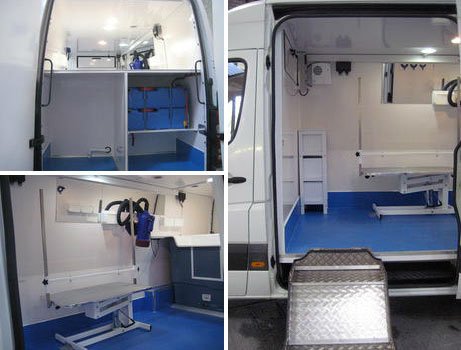 Our quality van conversions are based around long lasting quality and ease of use, providing a totally safe and enjoyable working environment, that performs as well as it looks. From the hygienic full wash down lining through to the luxury of air conditioning and heating with a built in de-humidifier, we offer a premium clipping van at a practical price that will prove an invaluable asset to your company.
We believe our clipping conversions remain un-paralleled in the industry. Not just because of our extensive experience and unbeatable build quality, but because we provide an exceptional level of professional clipping equipment.
What you get with a Wet Pet's Van
Unbeatable lasting quality
Award winning linings
Optimum practicality and durability
Exceptional finish and build quality
Quick turnaround times
Only premium equipment and materials utilised
10 year warranty
The most competitive conversion prices on the market
Redcape approved supplier
Fantastic after care service
Nationwide repair and service network
Friendly and free advice
Unlike many of our competitors, we aren't limited to certain vehicle types - we can build on any make or model of van/ chassis, second hand or new, big or small. From a basic insulated lining, through to a complete luxury clipping van conversions, we can do as much or as little as you like. We can even make improvements to your existing clipping conversion, with our Redcape quality products.
We focus on saving you money in the most important areas - the expensive clipping equipment, the vehicle lining and luxury build quality, combined with items that you really need.
Contact Wet Pet's Conversions