Animal Vehicle Conversions Exeter
As Exeter leading Dog Van Conversion specialists, we help to make dogs, pets and animals alike mobile! We can provide you with quality built Animal Transport conversions at amazing prices.
From transporting your show dogs, gun dogs or security dogs to providing a pet taxi service, the importance of travelling your pets in a safe and secure environment is of paramount importance.
Our Animal Vehicle Conversion Package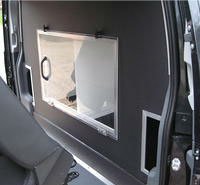 Our Animal Vehicle Conversions in Exeter are not limited to certain vehicle types - we can build on any make or model of van, second hand or new, big or small, to help ensure that you have the complete bespoke package and every individual requirement is met.
Just some of the fantastic qualities included in our Animal Vehicle Conversion package are:
Unbeatable lasting quality
Award winning linings
Optimum practicality and durability
Exceptional finish and build quality
Quick turnaround times
Only premium equipment and materials utilised
10 year warranty
The most competitive conversion prices on the market
Fantastic after care service
Nationwide repair and service network
Friendly and free advice
We are so proud of our Animal Vehicle Conversions that we give our conversions an amazing 10-year warranty. That is why you can be sure that when it comes to Animal Vehicle Conversions in the Exeter area, Wet Pets Conversions really are the best.
Our Animal Vehicle Conversions are based around long lasting quality and ease of use, providing a totally safe and enjoyable working environment that performs.
Contact us for our Animal Vehicle Conversions in Exeter
If you would like to know more about our Animal Vehicle Conversion service in the Exeter area contact us today.
Call us direct on 01258 837 779 or simply fill in the form below and press submit. We will get back to you as soon as possible:
Contact Wet Pet's Conversions